Eroulla's journey
With Sourdough Bread and Everyday Glutenfree
Naomi Devlin totally deserves this. If you are interested in her courses, read through to the end. If you have already enrolled, read through anyway, as you will identify, I am sure, with what I say. I have set aside a whole day to write this as it is a real, sincere, heartfelt testimonial that I have to put down in words. 
Before realising I had a problem with gluten I was a happy home baker following my trusty first ever cookbook, the classic The Dairy Book of Home Cookery, which I swore by for all basic recipes, and my countless cookery books collected over the years (I have a massive stock!). Everything turned out great. Always. I was confident enough to try any recipe from any good book and find that it would work. I loved baking bread, cakes, tarts, whatever. It is so lovely to make people happy by giving them food. I don't know if this is the Greek Cypriot genes in me that make me love to feed people, but it gives me loads of satisfaction to cook for family, friends and workmates and see looks of delight and appreciation. Six years ago this all changed when I discovered by gluten sensitivity after a serious illness which also made me start eating more healthily, cutting out milk, restricting dairy, cutting out sugar, but most of all gluten. I scoured the internet for gluten free recipes, bought gluten free books, enrolled in online courses which promised healthy, gluten free recipes, bread, sourdough, etc. I was eager to learn, read avidly, tried experimenting…all to no avail. Savoury food has generally been easy, but anything that required wheat flour was never good enough. I had some success making passable bread with one book, but in Spain I could not get the flours that they swore by, so this explained why my versions did not come out 100% ok. Shop bought was out of the question. Apart from using so many unhealthy ingredients, the texture and awful sweet taste put me off. Most gluten free cookbooks say use this commercial mix, or your own, or swap this flour for another one, and quite frankly this is all a load of rubbish. Each commercial mix behaves differently, with gluten free baking you cannot just swap one flour for any other or one brand for another. I realised this but had no idea why this was exactly. I had come to realise that for bread at least, it was necessary to use a mixture of different flours and that some starch was necessary, but did not know much else. I experimented with lots of recipes, from books and online, and usually things were not good enough to share and more often than not, found their place in the bin due to being heavy and having an absolutely awful texture. I dreamed of having a delicious bread and cakes that apart from having a good texture were good enough not to make me feel embarrassed to share with others. My confidence waned and I stopped inviting people to eat my baking experiments. Then, three years ago my daughter was diagnosed with exactly the same gluten sensitivity. This made me even more anxious to learn. I put my heart into learning how to make gluten free foods that she would love, not wanting her to miss out on typical Spanish and Greek food which is made with gluten. Some recipes came out edible, some on occasion were even nice, and most of these, when I repeated them, did not work again. I spent a fortune on a couple of online courses (more expensive than Naomi's) which I began and left, seeing that they did not work. I am still enrolled in their facebook group and can still see the awful pictures of bricks of bread and heavy awful sourdough gone wrong. My confidence reached rock bottom. I started to buy bread more regularly and felt like giving up. Luckily I didn't. When I was in London last Christmas, visiting the family, I came across River Cottage Gluten Free in WHSmith and saw the recipe for crumpets. I thought I would buy it just for that. One of my best buys. I made the crumpets as soon as I was back home in Spain and nearly went to heaven and came back. Honestly. This began to make me think I was onto something good. I began to follow Naomi on Instagram and saw that she gave courses at River Cottage and in London and many other places. I mentally calculated how much it could cost me to go to just one of her bread courses and learn from this woman who seemed to have the magic formula I was after. I honestly thought that even though it would cost me an arm and a leg to travel to the UK and stay, or commute to wherever her courses were, that I had to do one at least. When lockdown in Spain began in mid March and Naomi announced she was preparing an online course in sourdough I could not believe my luck. Of course I really could not imagine how lucky I really am. Little did I know that I wasn't only going to save a ton of money. The restrictions in Spain during lockdown have been extremely severe. Our only highlight during this time has been food. Mealtimes became our most enjoyable moment. And this was soon to become an understatement.
And then Naomi made things better. I received the course and stayed up to the early hours of the morning watching the videos and doing the quizzes of half the sourdough course. Naomi's explanations were so clear. She takes you through every stage in detail, telling you why to do things in such and such a way or giving details about what flour substitutions to use and why. At last, all the information I had mixed up in my mind from so much reading and researching suddenly began to fall into place. I began to understand where I had been going wrong. I made my sourdough starter following her recipe and could not believe how strong and bubbly it looked. While making it I ordered my dutch oven online. When I was ready to make my first boule I was so excited. I just had a tingly feeling all over, as if I were shaking, anticipating what the result would be. When I took the lid off the dutch oven during the baking time my heart started to beat so fast. It looked so beautiful, even though I say so myself! Then while it was cooling I had butterflies in my stomach. I called my husband and daughter to the kitchen to gaze at it. It was like we were experiencing a miracle. I kept cuddling it and touching to see if it had cooled down. This was agony waiting. When I cut into it I could not believe that it looked like Naomi's crumb. Then the taste and texture were both amazing. My first slice was without toasting and it was so soft and delicious. Then I tried it with some olive oil. I was in rapture!
The slices were big, loads of crumb and thin crust, beautiful taste, not crumbly and no need to be toasted like other gluten free breads. It was gone in one day! I made it again and again and each time it came out wonderfully. I lost the butterflies and began to take it in my stride, knowing that this recipe works. These are the just some of them (my favourite scoring is the swirl and I think it shows!):
In between making all these sourdough boules I made the sourdough chocolate boule which is so spectacularly scrumptious:
4
This chocolate sourdough is not sweet. It is dark and luscious and has a depth of flavour which is difficult to describe. And it has wonderfully big sourdough holes which create a great impression. This is a loaf you could gift someone who is gluten free (although any of the loaves of either course could also be gifted, and in fact have been-although I haven't gifted this one yet as we have eaten both boules!) as if it were a treasure. Toasted with butter and honey it is divine. I am sure that it would be good with a chocolate and hazlenut spread too. I have made it twice and it really is a stunner.
Then came the sourdough baguettes. Oh my God! My daughter was in ecstasy (me too!).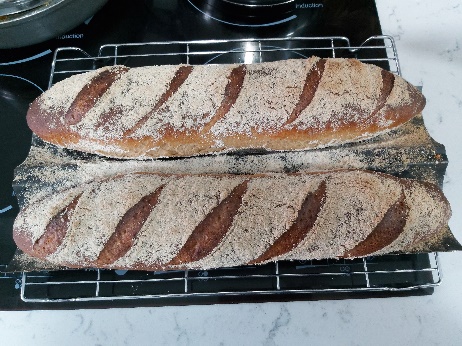 I have lost count of the number of times I have made these, 4 or 5 so far? (I purchased the course on April 7th and today is June 23rd). They don't last long as we eat them straight away. They can be eaten fresh and are perfect for dunking in sauces and a lovely egg yolk for example. The toast made is just gorgeous and my daughter says that it is best just with butter so as not to ruin the taste it already has! The fact that my daughter says this means just the world to me. After all, I want to learn to make these things for her! 
Then came the grissini, waffles and crumpets and all three were delicious. Unfortunately, I don't have any pictures of the crumpets.
The digestive biscuits with sourdough put the cherry on the icing, so to speak. They are absolutely melt in the mouth delicious. I can't wait to try them with chocolate in the winter. I and I nearly forgot the discard crackers, which are never around for long (no pictures of these either, sorry) and go with everything. 
Naomi also seems to have an innate generosity to offer us even more recipes to go with her courses. In the facebook group she has shared an extra recipe for crepes and one for cured yolks to use the left over yolks from making the loaves (although she also offers vegan options without egg white in her bread recipes) I have not made the crepes or the cured yolks yet, but I am sure they will come out great when I try. She has even gifted us with a mini fermentation course which I am dying to have time to meddle with. Can you see now why she has been the star of my confinement? The person who has made everything feel much better? Nothing tastes "gluten free" if you know what I mean. Well of course you know what I mean! Anything you buy gluten free will have a strange texture, or something missing, or will be edible but not at all tasty. All Naomi's recipes are out of this world, drop dead brilliant, the bomb, you name it! I am not the only one to reproduce her tasty recipes and we can all vouch for them tasting like the real Mc Coy, even better. You see she has boosted my confidence 100% through this first sourdough course. Her instructions are easy to follow and she offers constant snippets of information on the properties of ingredients or possible chemical reactions between certain things. She is a mine of knowledge. Not only that, she gives great advice to absolutely everyone in the facebook support group and in any messages that you send her. She has mothered us from start to finish and I cannot be more grateful. I will recommend her courses with my eyes closed and I know I am not alone with this feeling. 
But this was just the beginning! Then came the Everyday Gluten Free Course and I knew I had to have it. Oh my goodness, things just got better and better. I know my daughter was happy with all the bread (even my gluten eating husband was!) but then I tried the sandwich loaf which is so lovely and soft and pliable and scrumptious, and I have run out of adjectives to describe it! Back to my daughter, she said to me "Mum, each bread you make gets better and better", which produced a mega melting mamma moment! In one week I made 3 of them! My bread tin was taller and shorter than Naomi's so I followed her advice in the facebook group and finally worked out the perfect oven setting and timing. See for yourself:
You CAN have a sandwich again, in bread that looks, tastes and feels "normal", and by that I do not mean average, I mean delicious sandwich bread. I felt sorry that I had left my sourdough starter without using it after the first three sandwich loaves, so after this I made another boule, and then the baguettes, and then the chocolate boule again, and then the sandwich loaf a fourth time. Then one night I decided to make the focaccia, and chose my own flavouring of olives and onions. Oh my Lord! This was finished off by the three of us in one evening. It was dripping in olive oil and so moist and juicy and although I have not made it again (couldn't be bothered to pick out all the olive pips again J, next time I will choose easier seasonings…there are loads) I have had twenty requests for it since then. 
Then came the flaky pastry. Naomi has perfected the method and tells you how not to go wrong to produce an absolutely beautiful pastry. I made it and used a chicken and sweetcorn filling. This is just such a basic recipe that all gluten free people need to have. It is so versatile. 
Here I had made a boule on the same day and jam tarts with the left over pastry. I can now use this to make pies, pasties, tarts…,sky's the limit. I have not made the apple galette yet, but this is definitely on my list to make whenever I can. I know it will work fine. I am sure of it.
Looking then through the recipe list of this course I came across the soda bread. I have never had soda bread before but decided it would be nice to try another recipe for bread. I was not expecting this beautiful soft bread that is extremely quick to make and makes me feel safe to know that I can whip it up in no time at all if I do not have time to get my sourdough starter ready.
I was nervous about making pasta as I suppose I thought it was really difficult before. But it has been such a lovely experience and I can assure everyone that both the chickpea pasta recipe and the gnocchi recipe are easy to follow and well worth it. I began with tagliatelle, but do not have a picture of the cooked version. My daughter could live off pasta so I cannot tell you how happy she was. Then I made the potato gnocchi. This was a real discovery for me. I had never tried fresh gnocchi, just the shop bought. I couldn't understand what the fuss was all about, until I tried these beautifully soft pillowy drops of deliciousness. I loved rolling them into shape. I found it very therapeutic, not tedious as I had imagined. I made it with two sauces, a cherry tomato sauce and a garlic, butter and parsley sauce. Both were delectable, so much so that I made them again a week later for guests (yes I have decided to have guests to eat againJ) with the arrabiata sauce, and they were a hit. Here are my pasta pictures: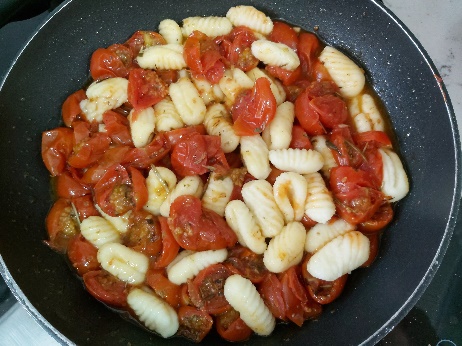 What Naomi doesn't know yet is that I decided to buy a pasta extruder machine to make my own gluten free long macaroni. Greeks use this to make macaronia tou fournou (Cypriot name, aka pastitsio in Greece) which is a pasta bake made with long bucatini or ziti. When you go gluten free you find that this pasta cannot be bought absolutely anywhere gluten free. So to make this beloved dish of ours I want to replicate the macaroni using Naomi's chickpea pasta recipe. It arrived a few days ago. I had made the pasta the day before, meaning to roll it out, but then the machine arrived a week earlier than expected. My daughter asked me to make her small macaroni with it to take to a friend's party so she could eat with no worries. Here is the result, which made me very happy!:
I will inform Naomi and the facebook group of my progress with the ziti or bucatini for macaronia tou fournou when I get around to making it.
Last but not least, I made the scones. I had not had one for years, the last being a totally unsatisfactory rendition of them from a UK supermarket. Scones were one of the first recipes I learnt to make in my secondary school cookery classes and I loved them. I even used scone dough as a base for pizza in my student days. Scones also remind me of my late mother-in-law who loved them with raisins. So I made them and felt sentimentally happy and sad at the same time. I was sad I couldn't share them with her, savouring all those lovely raisins in the crumbly dough. But I was happy they turned out great. I made a half recipe in the morning and by midday they were all gone. Here are the before and after baking pictures of them:
And I have just remembered that I also made the digestive biscuits without the sourdough, following the recipe from this course to tell my facebook group that they tasted just as good. 
If you have managed to get to the end of this I hope that I have been able to convey just how happy Naomi has made me with these two great courses. I also have the chapatti and appam mini courses which I have seen, studied, but not made yet. I will readily sign up to any other course Naomi offers with the certainty that I am not wasting my money, knowing that there is someone who has worked so hard to perfect all these recipes and has my unwavering respect and support. In the last three months, with these courses, the Saturday confinement Instagram bake-alongs of hot cross buns, frangipane tart, arancini and chocolate cake to boot I can safely and sincerely say that these courses are all keepers. Naomi I have told you before and I will tell you again, you are a star!
Eroulla Demetriou
Henna's sourdough journey
Henna has started writing her own blog documenting her bakes.
Naomi's gluten-free sourdough bread course has opened me a world I did not know existed! In addition to being coeliac, I have intolerances to many other foods, corn and rice being amongst them, which adds another layer of challenge to baking gluten-free. In the course resources there's a helpful list of ingredient swaps and I haven't had to rely on just the list for Naomi is regularly reachable in the Facebook group to answer questions. This has resulted in me making boules, baguettes, waffles etc. that are not only tasting amazing but are texturally sound.
The materials with videos, lists, recipes and instructions are so detailed that following them is easy and I have managed to get great results even in my very first bakes. Of course in baking there can be the occasional mishap but the materials and Facebook group are great for troubleshooting and help build up the skill of sourdough baking which goes way further than just learning to bake from a recipe. I really think the course has been one of the best investments towards more joy and improved quality of life for it has extended my choice in foods to eat to a whole new level and I've gained a useful hobby that saves me money for I won't be buying gf bread anymore...